scansion
identifying and naming the number of feet in a line of poetry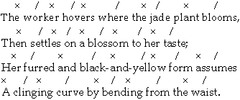 form
various sets of rules followed by poems of certain types
foot
the basic metrical unit, consisting of one accented syllable plus one or more unaccented syllables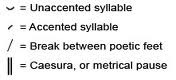 sonnet
a fixed form of poetry, means little sound or song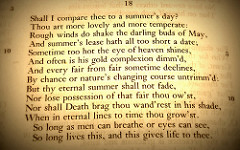 stanza
connected thoughts set off by spaces, like paragraphs to prose
personification
giving human characteristics to nonhuman things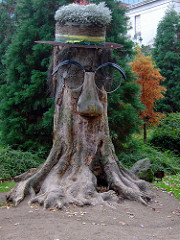 free verse
poetry that is free from limitations of regular rhyme, rhythm or meter
alliteration
repetition of consonant sounds at the beginnings of words
metaphor
comparing two unlike things where one thing becomes the other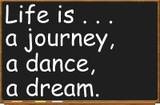 assonance
the repetition of vowel sounds inside of words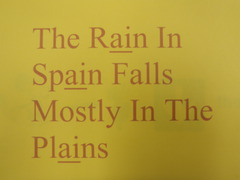 simile
using like or as to compare two unlike things
figurative language
the meaning is different from the literal interpretation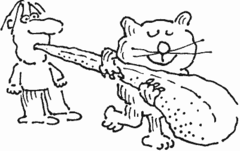 imagery
impressions brought to us by one or more of our senses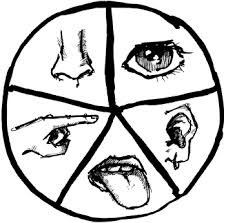 consonance
the repetition of consonant sounds inside of words
rhyme
a word that agrees with another sound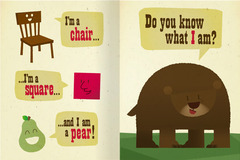 rhyme scheme
the letter assigned to the rhyme sounds at the end of lines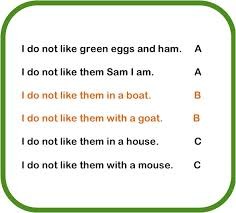 onomatopoeia
verbal mimicries of sounds
rhythm
when any pattern repeats itself in verse regularly

meter
stressed and unstressed syllable patterns in a line of poetry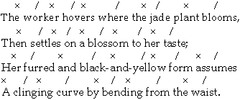 Haiku
Japanese poetry about nature with 17 syllables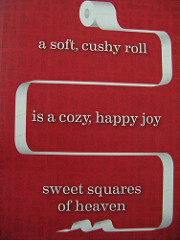 Cinquain
poem with 2, 4, 6, 8, 2 syllables
Shakespearean sonnet
Its rhyme scheme is abab, cdcd, efef, gg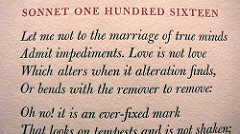 Italian sonnet
It has two stanzas 8 lines and 4 lines with a definite rhyme scheme
limerick
It has 3 accented syllables in the first, second, and fifth lines, and 2 accented syllables in the third and fourth lines. The 1st, 2nd, and 5th lines rhyme as do the 3rd and 4th lines.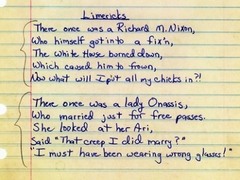 ballad
It is made up of 4 lines with a rhyme scheme of either abcb or abab and a rhythmical pattern of four feet in lines one and three feet in lines two and four.
Lines 2 and 4 rhyme. Lines 1 and 3 are generally unrhymed
blank verse
unrhymed iambic pentameter
couplet
Every two lines rhyme and usually have the same meter.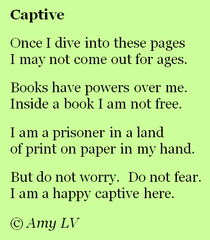 apostrophe
In poetry it is addressing someone who is absent or something inhuman as if it were human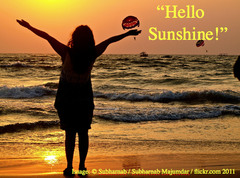 refrain
the author repeats words, phrases, lines, or groups of lines.
denotation
the dictionary definition of a word
connotation
suggestions words accumulate in addition to their dictionary meanings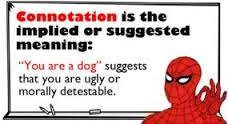 symbol
an image that stands for more than it indicates literally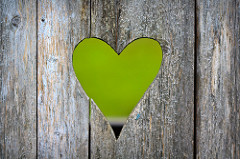 allusion
a reference to some other work
iamb
./ which means unstressed, stressed syllables
trochee
/. which means stressed unstressed syllables

anapest
.
./ which means 2 unstressed and one stressed syllables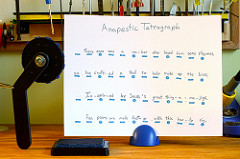 Dactyl
/..
which means 1 stressed syllable followed by two unstressed syllables
x
Hi!
I'm Mary!
Hi there, would you like to get such a paper? How about receiving a customized one?
Click to learn more